You've waited long enough…here's the official announcement!
* * * * * * * *
The Aristocrats reveal the title of their third studio album:
Tres Caballeros
Plus: North America Summer 2015 Tour Dates Announced
"virtuosic, melodic, spontaneous, outrageous and fun" [Guitar World]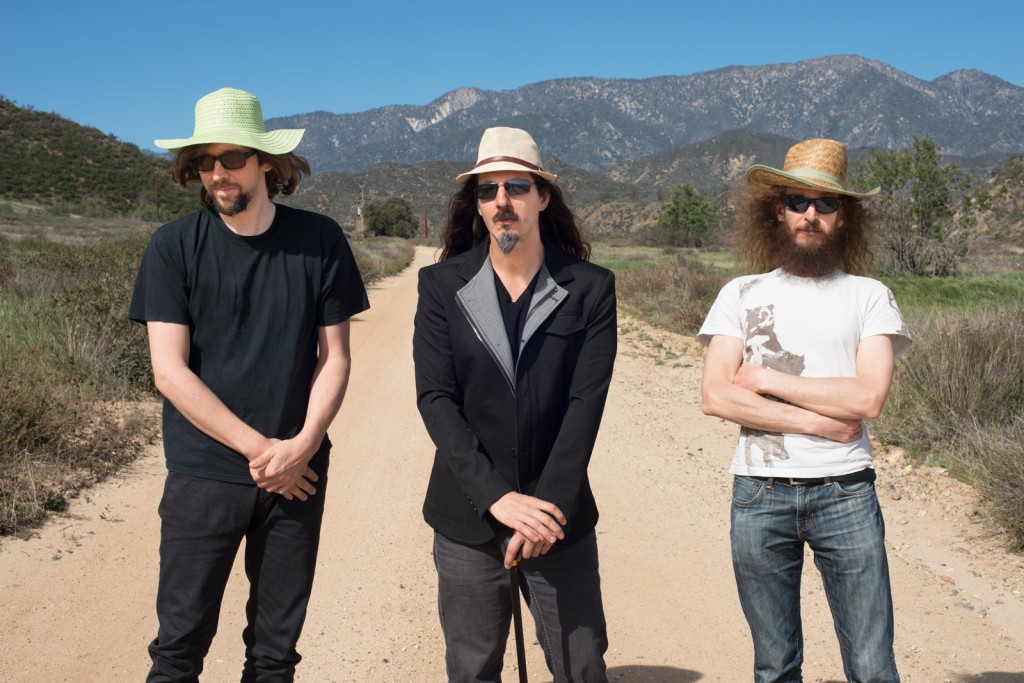 (photo by Mike Mesker)
Fresh off their wildly successful 2013-2014 Culture Clash world tour, The Aristocrats – by any measure the hottest new band in instrumental rock/fusion today – rewrote their own rules for their third studio album, Tres Caballeros, which is slated for release in late June.
After two fairly raw trio albums, guitarist Guthrie Govan (Steven Wilson, Asia/GPS), bassist Bryan Beller (Joe Satriani, Dethklok) and drummer Marco Minnemann (Steven Wilson, Joe Satriani) set up camp at legendary Sunset Sound studios in Hollywood, CA, where Led Zeppelin, The Rolling Stones and Van Halen all recorded landmark albums.
The result: Nine new compositions of greater sonic depth and breadth than ever before, with unique textures and lush layering augmenting the band's preternatural ability to improvise both individually and as a group at the highest levels possible. But not to worry – it's all still tempered with a steadfast refusal to take themselves too seriously, and The Aristocrats are still having more fun than a fusion band has any right to have.
"We've learned a lot since we started this band – four years, three studio albums, two live DVDs and about a billion notes ago! – and I think our latest offering reflects this in all kinds of ways," says guitarist Guthrie Govan. "The decision to road-test our new material in front of a live audience before commencing the recording process; the choice to record in a studio which had some thoroughly inspiring rock'n'roll 'mojo'; our sudden urge to become more bold and experimental with overdubs rather than feeling any pressure to record exclusively in a strict 'trio' format… all of this has had some kind of positive effect on the way the new record came out. Plus, I think the material on this album is some of the most interesting stuff we've ever written for each other, so… here's hoping our noble listeners will like the finished product as much as we do!"
The Tres Caballeros tour will bring the band's new musical vision in trio form to stages across North America in their most ambitious jaunt yet. The Aristocrats will be supported by fellow rock/fusion power trio The Travis Larson Band.
Full details on each date can be found on the Aristocrats website calendar page. 
The Aristocrats
Tres Caballeros North America Tour – Summer 2015
Date                  City                              Venue
Mon 6-Jul         Sacramento, CA           Harlow's
Tues 7-Jul         San Francisco, CA       Slim's
Wed 8-Jul         Santa Cruz, CA             Don Quixote's
Fri 10-Jul          Portland, OR                 Star Theater
Sat 11-Jul          Seattle, WA                    Studio Seven
Sun 12-Jul        Vancouver, BC, CAN   Rickshaw Theatre
Tues 14-Jul      Boise, ID                         Reef
Wed 15-Jul       Salt Lake City, UT        Club X
Fri 17-Jul          Denver, CO                    Quixote's True Blue
Sun 19-Jul         Omaha, NE                    Slowdown
Mon 20-Jul      Des Moines, IA             The Gaslamp
Tues 21-Jul       St. Paul, MN                 The Amsterdam Bar And Hall
Fri 24-Jul          Chicago, IL                   Reggie's
Sat 25-Jul          Indianapolis, IN          Birdy's
Sun 26-Jul        Cincinnati, OH             The Mad Frog
Tues 28-Jul      Cleveland, OH              Beachland Ballroom
Wed 29-Jul       Pittsburgh, PA              Hard Rock Café
Thur 30-Jul      Columbus, OH              Skully's
Fri 31-Jul          Detroit, MI                     Token Lounge
Sat 1-Aug          Toronto, ON, CAN        Mod Club
Sun 2-Aug       Ottawa, ON, CAN         The Rainbow Bistro
Tues 4-Aug       Montreal, QC, CAN      Cafe Campus
Wed 5-Aug       Woodstock, NY              Bearsville Theater
Fri 7-Aug          Boston, MA                     The Middle East
Sat 8-Aug          New York City, NY        Irving Plaza
Sun 9-Aug         Philadelphia, PA           North Star Bar
Mon 10-Aug      Washington, DC           Jammin' Java
Tues 11-Aug       Raleigh, NC                   Pour House
Thur 13-Aug      Charlotte, NC                Tremont Music Hall
Fri 14-Aug          Atlanta, GA                   Aisle 5
Sat 15-Aug         Nashville, TN                The High Watt
Sun 16-Aug        St. Louis, MO                Old Rock House
Mon 17-Aug       Kansas City, MO          The Scene
Tues 18-Aug       Tulsa, OK                      The Vanguard
Thur 20-Aug      Houston, TX                 Fitzgerald's
Fri 21-Aug           Austin, TX                    The Roost
Sat 22-Aug          Dallas/Ft. Worth, TX   The Sanctuary
Mon 24-Aug       Albuquerque, NM        Launchpad
Wed 26-Aug       Phoenix, AZ                   Club Red
Thur 27-Aug       Mexicali, MEXICO      Teatro De Estado
Fri 28-Aug          San Diego, CA               Price Center Ballroom East, UC San Diego
Sat 29-Aug          Corona/Big Bear, CA  TBD
Sun 30-Aug        Los Angeles, CA            King King
####
One more thing we'd like to share with you: we still get asked about transcriptions and backing tracks all the time. Do we have them for Culture Clash and the debut eponymous album? For every instrument (on Culture Clash, at least)? Yes we do! Our friends at Jam Track Central have all of this stuff, and they've got a little thing going this month where you'll get 30% off if you use the discount code AR30 before the end of March.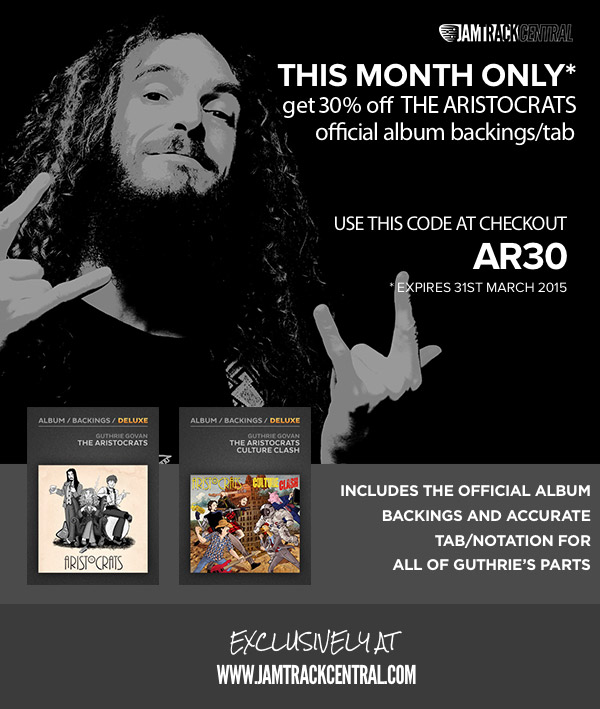 It's that simple. Using the code, that is – as for learning and playing Guthrie's or Bryan's or Marco's parts, you're on your own. ;-)
Stay tuned for more info about the new album and more in the coming weeks…and hope to see you somewhere out on the road this summer!
​Best wishes to all,
The Aristocrats
---
To The Aristocratic Faithful-
Hello once again! We're on the verge of announcing the title of our next studio album, as well as summer tour dates for North America. The plan is to release the album in late June, and then hit the road immediately in the U.S. and Canada to support it. (Don't worry, friends on other continents, we'll get over there afterwards; more on that in future e-mails.) That official announcement should come in about 10 days, so hold tight while we confirm the last few dates and we'll get you the info as soon as we can. In the meantime, we have two things we'd like to share with you.
First: One of the big things to happen this month is that Guthrie Govan is on the cover of the latest (April) issue of Guitar World Magazine, along with Joe Satriani and Tosin Abasi of Animals As Leaders. Pretty damned cool. We strongly advise you to find a hard copy of the mag, which has a separate article on Guthrie previewing the new Aristocrats studio album. (But don't forget to look closely at the cover to see where we're listed. Did that really happen? :-) )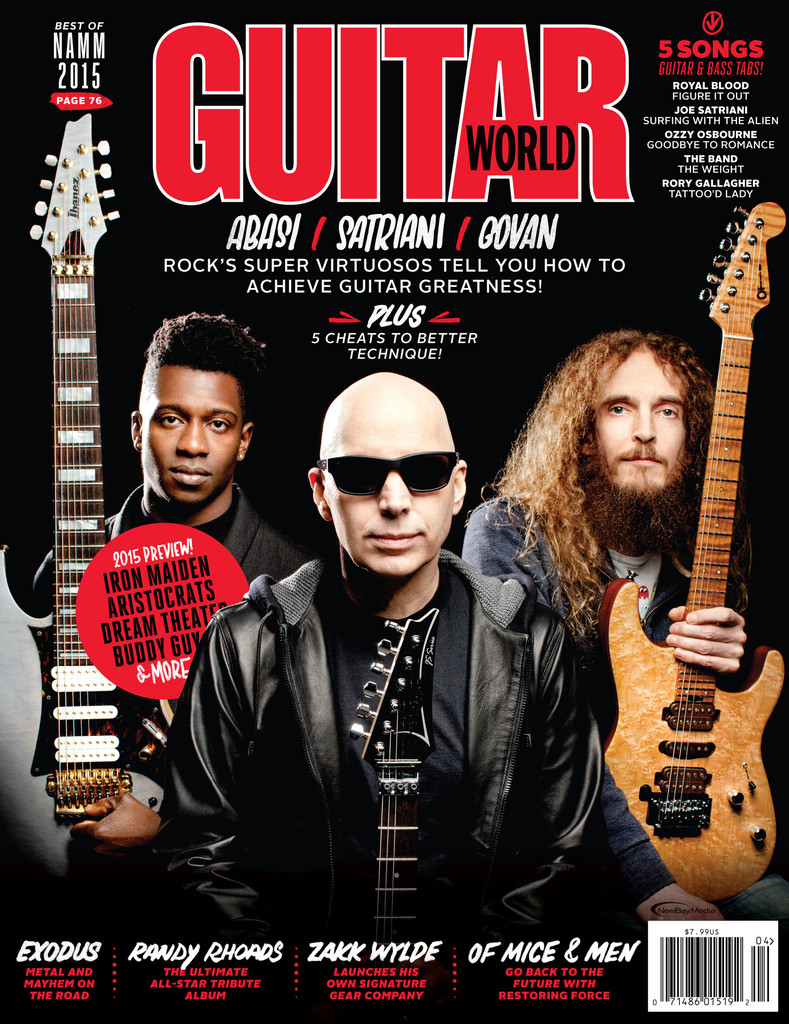 But one of the reasons this collection of heavyweights is gracing the cover of GW is because they'll all be gathered for the G4 Experience camp in Cambria, CA in late June/early July. Along with freak/genius Mike Keneally (hence the "4" in "G4″), it'll be four days and nights of instructional clinics and hang time with all of The Aristocrats, Satch, Tosin and his crew, and more. It's going to be an amazing time. And if you're younger and trying to figure out a way to do this that won't make you skip a student loan payment, apparently there's some new packages designed just for you.
This is the first time The Aristocrats have ever done something like this, and with our schedules, it might be a long while before it happens again. If you're interested, check it all out right here:
*********
Second: Culture Clash Live has been out now for over a month, and we've been incredibly grateful for the positive reception it's received from fans and critics alike. At the risk of humble-bragging, we thought we'd share bits of the coolest critical reviews we've gotten so far.
This first one has our favorite imagery:
"It has the drive of blues-based American hard rock, veering into a dalliance with metal, but played with the agility and fluidity of jazzers…there is so much good humour infused in every bar that every track is a delight, a charging rhino in a pink tutu. Culture Clash Live! will have you coming back to it because it is so damn entertaining."
–Echoes and Dust (UK)
For a moment there "Charging Rhino, Pink Tutu" was going to be our next album title. Just a brief moment.
Then we have another British review, this one with a rhyme:

"Genres are mashed, speed limits crashed and minds warped in a blizzard of ultra chops…it's delivered with panache, wit and formidable technical prowess. Prepare to be awed."
–Guitarist Magazine (UK)
Our British friends will almost certainly realize that the following review was not written by one of their fellow countrymen:
"The live DVD held in this release proves that these three musicians are truly human and capable of astounding progressive, jazz-fusion rock…nothing less than stunning musical virtuosity with a side of comical spunk."
–Alternative Nation (USA)
Ahem.
Anyway, let's see what the Italian judges have to say:
"[Culture Clash Live] really enhances the histrionics, the eccentricity and the irreverent creativity of these incredible guys … [chickens] and pigs included! As individuals these three musicians are on another planet. Put together they are an explosive mixture and the stage is the place where they are really at home!"
–Guitarist (Italy)
That was translated from the original Italian, so we're hoping it's right! Back to the U.S. for this one:
"The Aristocrats continue to demonstrate a level of technique and humility that all musicians should aspire to, and Culture Clash Live! is a fantastic example of why… A gripping sequence of funky rhythms, virtuosic intricacy, and endlessly joyous attitudes, the CD/DVD combo is a must own for fans of the style(s)."
–Rebel Noise (USA)
Let's not forget our drum-focused friends up north, who penned this carnivorous allegory:
"Culture Clash Live is a venerable meat market of musicality and is definitely worth a pound of flesh (or two)."
–The Black Page (Canada)
And finally (as Guthrie would say), we like any review which focuses on the fact that we're, you know, a band:
"The Aristocrats are not only a 'supergroup' but a very real capital 'B' BAND that exists for the only purpose that really matters – making great music. Culture Clash Live is a must, a powerhouse collection from one of the most talented musical collectives on the scene."
–USA Prog Files
Seriously, we're truly humbled and glad you dig it. What, you haven't picked it up yet? Protip: click this link. Or the picture.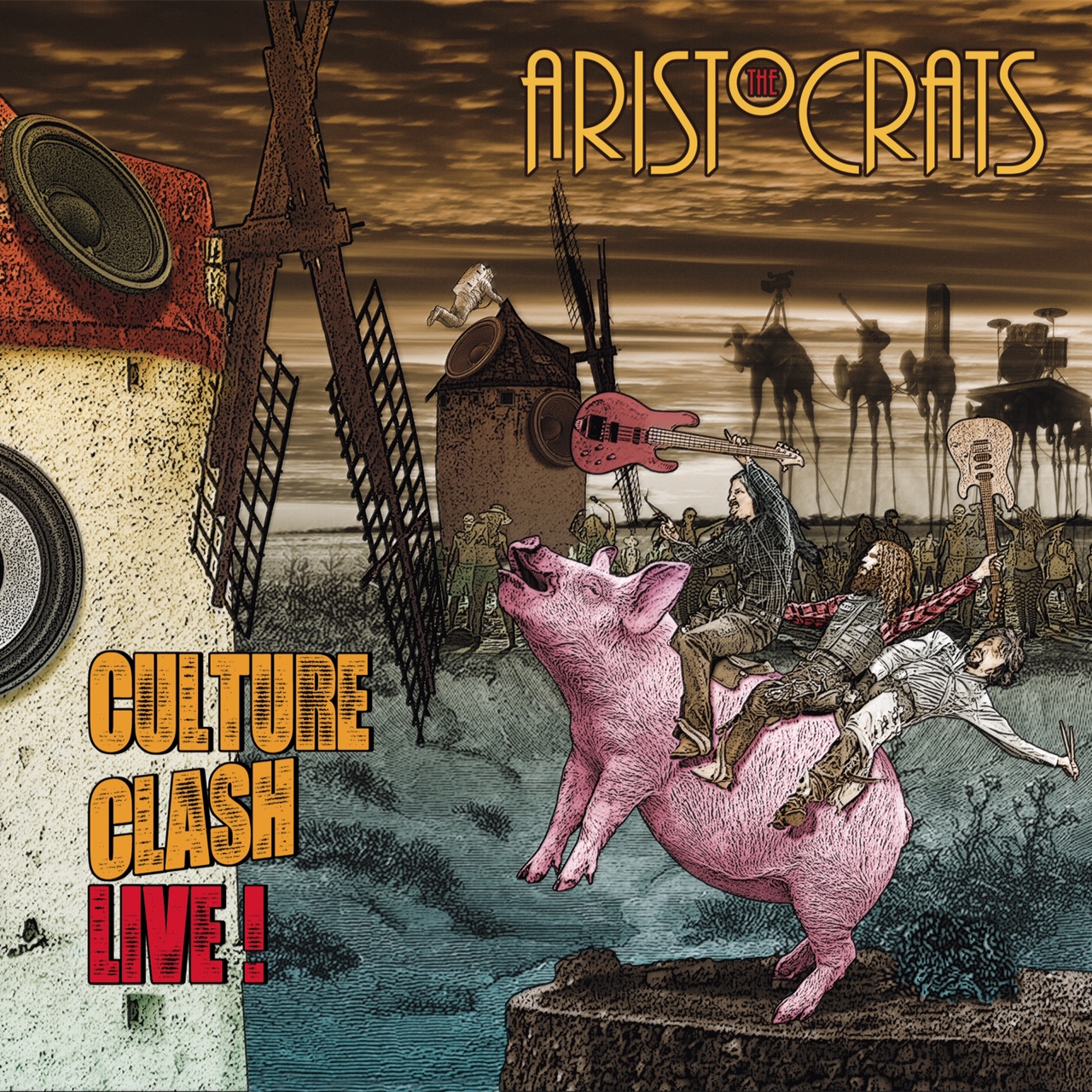 ************
Thanks as always for following along, and we'll be back soon with The Big News about the new album and tour dates…
Cheers to all,
The Aristocrats
---
This is Bryan here, poking my head up to give you a little report on how our tracking for the new album went.
In case you didn't know. Guthrie, Marco and I just spent 10 days tracking a new record at the legendary Sunset Sound studio in Hollywood, CA. I am here to tell you that it was by far the most rewarding recording experience we've ever had as a band. Led Zeppelin (parts of II, IV), Van Halen (Fair Warning), Rage Against The Machine (The Battle Of Los Angeles), and a thousand other huge acts have tracked in the room we were in (Studio 2), and every day we were there, we uncovered another layer of its awesomeness and found another reason why the room was so great. The combination of great vintage gear, the famous reverb chambers (the ones that were used for the early Van Halen albums), and the room sound in the main tracking room all contributed to an environment that encouraged maximum creativity and made us sad to leave.
We were all pushing each other to try new things, and we all went for broke in terms of layering the recordings to our heart's content. The result is a totally new direction for the band, while still retaining our true Aristocratic nature. I personally can't believe how good the rough mixes sound…and as for the material, it's like nothing we've ever done. We all feel like giddy schoolchildren right now, and we can't wait to share this record with you. It's going to come out in late June, and a North America tour will immediately follow. Details coming soon.
One of the reasons the sessions went so well is that we played the material live at Alvas Showroom for four nights in a row before we went into the studio. That was a really great experience – thanks so much to the fans who came out to watch us (nervously!) play our new babies for the first time. Thanks also to Alvas for hosting the event. Here's a couple of pix from Alvas and the studio for your amusement.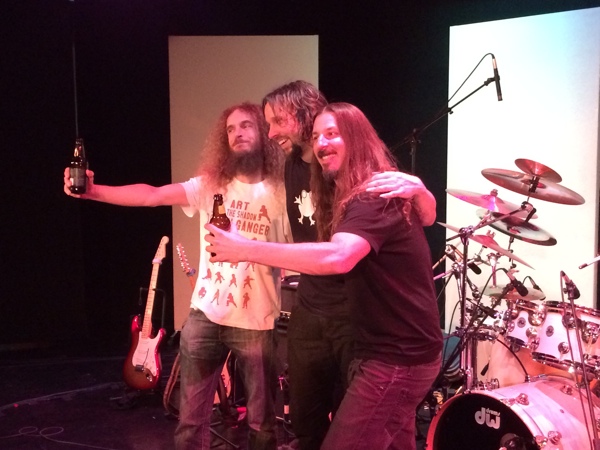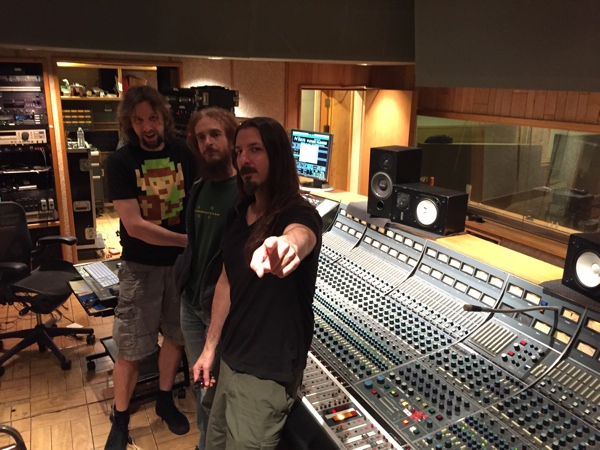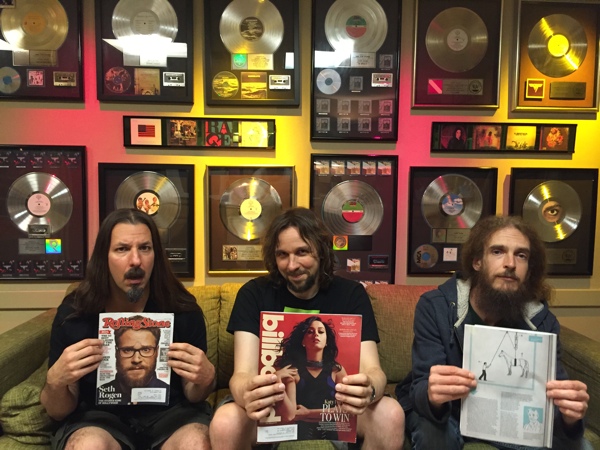 Meanwhile, our new live CD/DVD Culture Clash Live (and the limited-edition Secret Show: Live In Osaka) is now out and available for immediate ordering. Lots of people have been kind enough to tell us they dig it, but none more elegantly than the website Echoes And Dust, who really got the cheekiness of it all and compared us to a "charging rhino in a pink tutu." That's what we call high praise. Click here to check out previews on our YouTube page, or just click here to order. If you've already got it, thanks so much for your support and hope you like it! Special note: We've only got about 130 units of the full-band-signed Secret Show CD's, and when they're gone, they're gone. Just a heads up there.
Don't forget to follow us on Facebook (we're updating daily there with all sorts of behind-the-scenes content) and Twitter (same thing, just shorter, @acratsband) for the latest Aristocratic real-time news. Thanks again for being interested in what we're up to. Now we need to go finish this record. :-)
Best wishes to all,
The Aristocrats
---
This is it – today's the day! Our CD/DVD Culture Clash Live and 2CD "live bootleg" Secret Show: Live In Osaka have been released into the wild. They're both available for order and immediate shipment right now.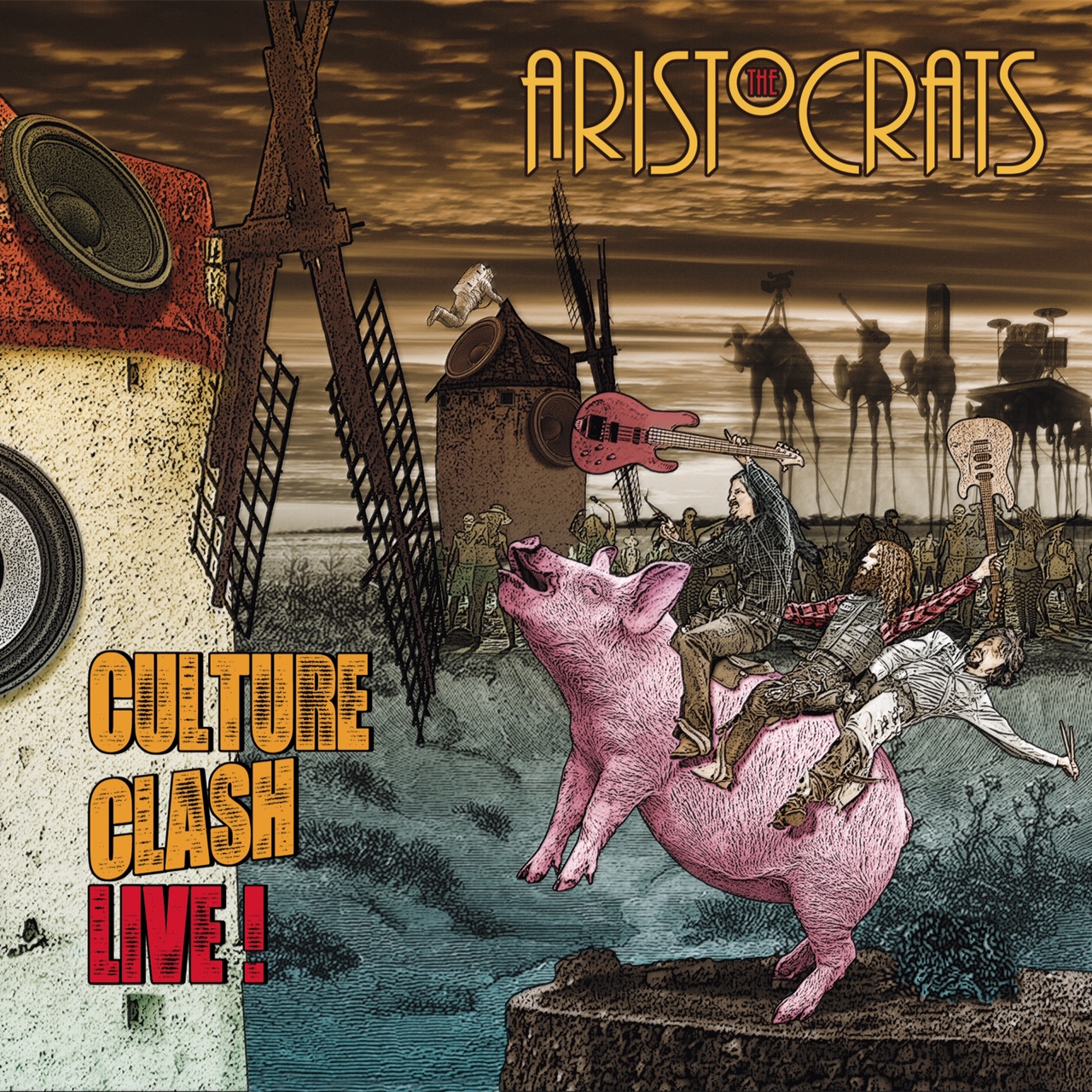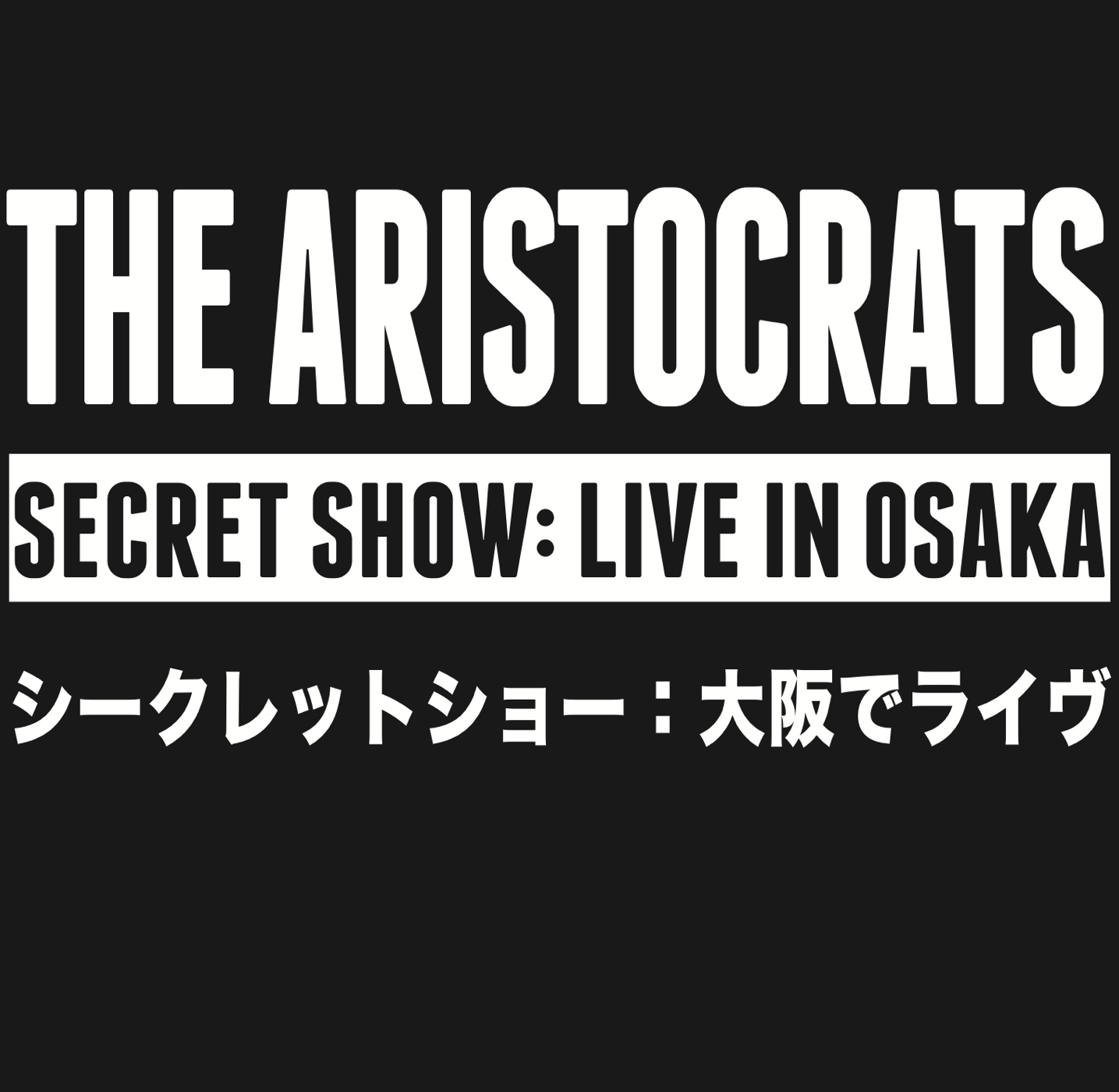 If you pre-ordered through our webstore, thanks so very much. Your digital download of the audio CD should be in your inbox, and the physical copy should already be on its way to you. Some of you might already have it. :-)
If you're not the pre-ordering type and were waiting until release day…well, that day has arrived, so you know what to do.
And if you've been hiding under a rock and haven't been seeing these hype-o-matic posts over the past couple of months, here's a few preview videos from the DVD for you:
We couldn't be prouder to share this with you as a wrap up of our Culture Clash World Tour. It's also a nice transition as we prepare to head into the studio again in February to make the next album.
One important note: We were hoping to launch a pay-for-video-streaming service today for a digital-only version of the DVD. But after a lot of beta testing, it just didn't work out, and we only want to bring the best possible experience to you. So that's been shelved. A few folks out there helped us with that beta testing, and we are very grateful to those that did so – a hearty Aristocratic thank you to those brave souls.
You've heard enough from us in text. It's time for you to hear from us onstage. We sincerely hope you enjoy Culture Clash Live and Secret Show: Live In Osaka, and thanks again for all of your support.
Best wishes to all,
The Aristocrats
P.S. Oh, and by the way, if you dig it, there are these things called Twitter and Facebook and Instagram where you could talk about it with like-minded folks…
The Aristocrats on Twitter (@acratsband)
The Aristocrats Facebook Page
The Aristocrats on Instagram
---
We're only 8 days away from the release date of our live CD/DVD Culture Clash Live (as well as our "official bootleg" 2CD Secret Show: Live In Osaka), and now we've got one last preview video to share with you – the complete song performance of "Culture Clash" from our show in Bangkok, Thailand.
Our good friends at Guitar World are hosting the exclusive video – click here to check it out now!
As we've mentioned, Culture Clash Live was professionally captured at six different shows in five different countries on three different continents. It's more ambitious than anything we've ever put together.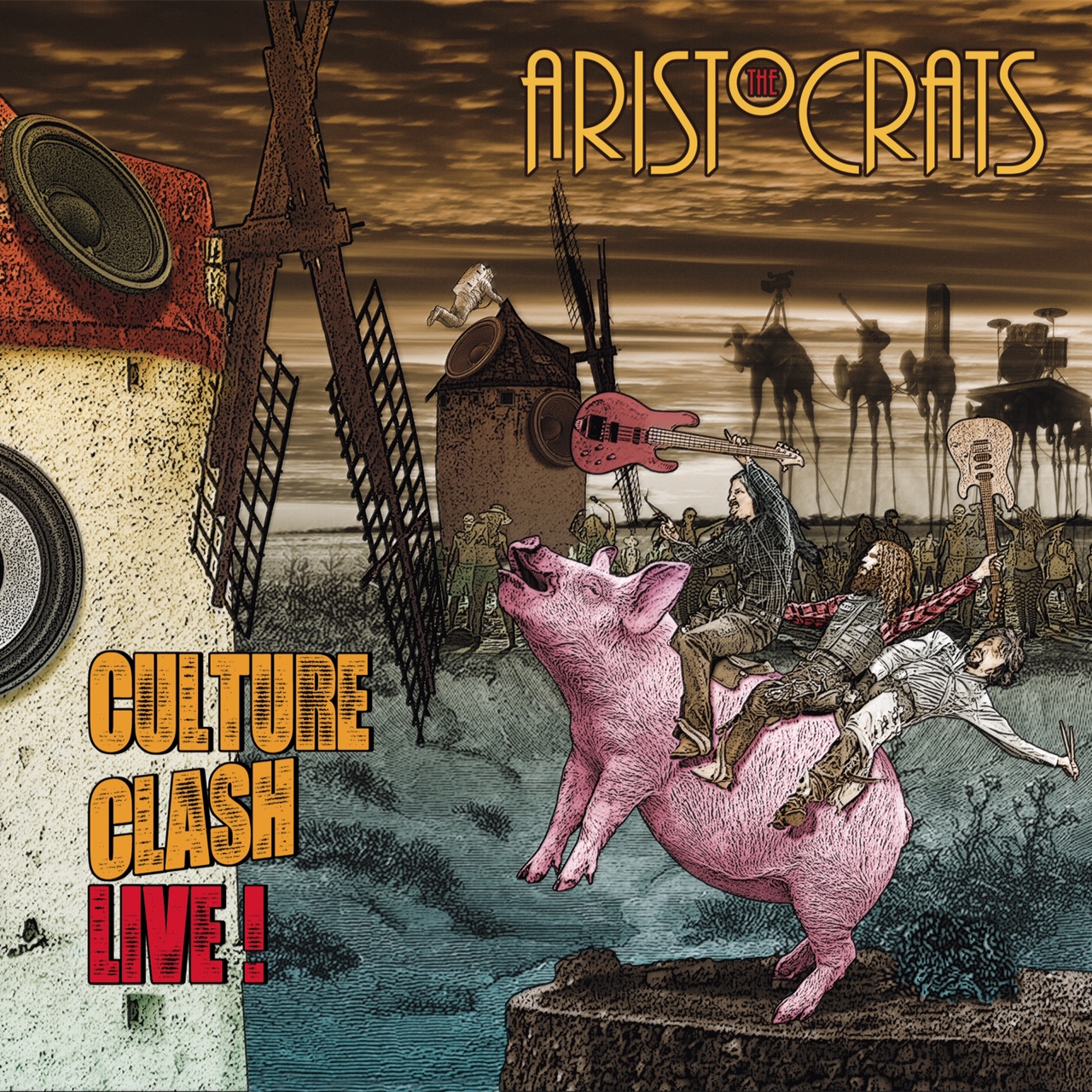 And the "official bootleg" from Osaka is a complete show, pretty much start to finish, with no performance edits at all, and the first 1,000 units signed by Guthrie, Bryan and Marco.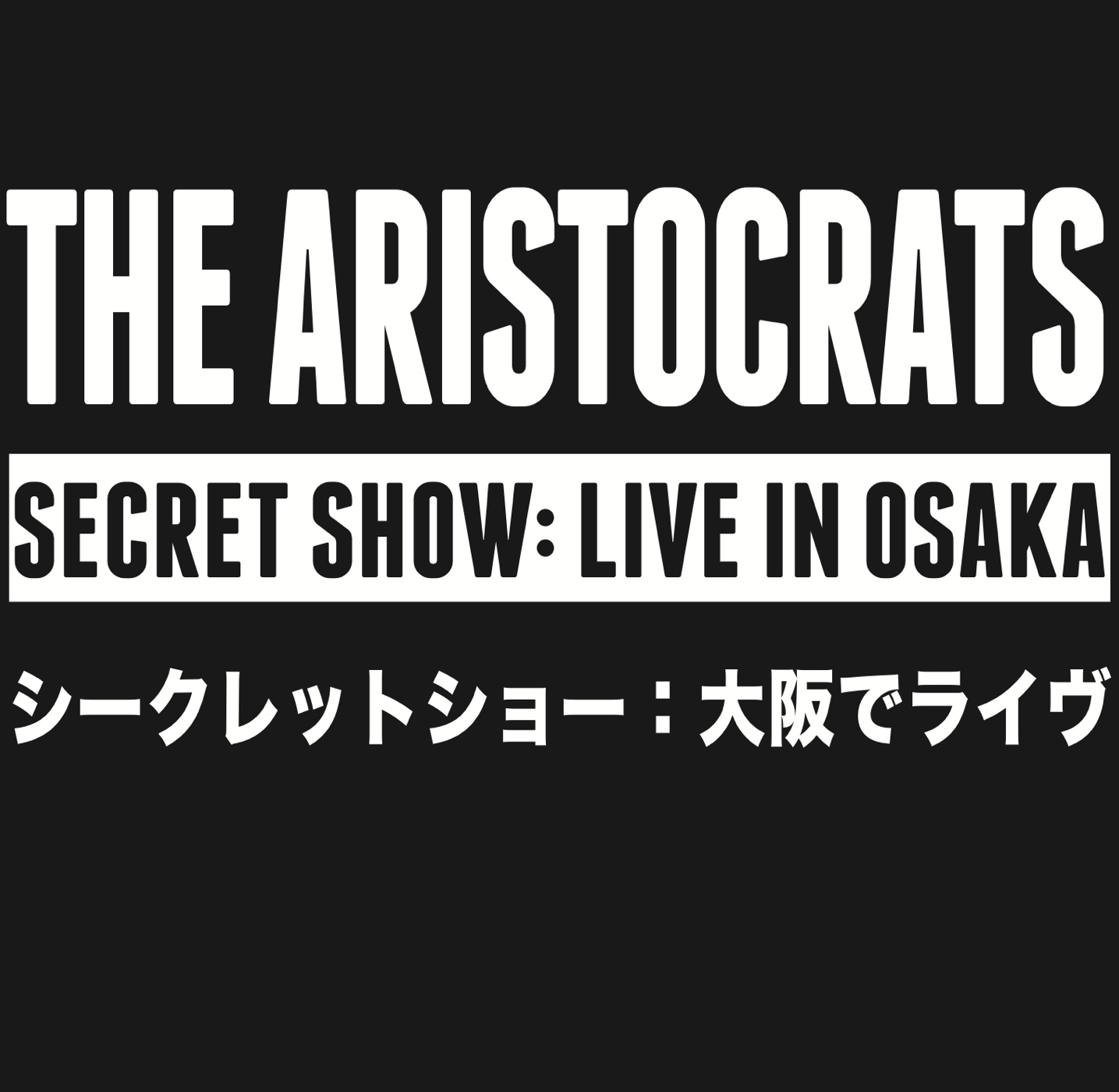 Pre-orders will start shipping really soon to hit the January 20 release date. So, you know what comes next:
Thanks again to everyone who made these releases possible. We really look forward to sharing them with you.
Cheers to all,
The Aristocrats
---
I know we just posted about the presale for new live CD/DVD Culture Clash Live and limited-edition "official tour bootleg" 2CD Secret Show: Live In Osaka (release date January 20, preview video right here), but we've got some other exciting news to announce.
On January 20 (or very shortly thereafter) we're going to release the main concert footage from the Culture Clash Live DVD digitally through a new service called Littlecast. It's an emerging technology and we want to make sure that it's all smooth for release day. So we'd like to take Littlecast for a test drive by releasing our first live DVD Boing, We'll Do It Live! (preview video at the link) on Littlecast right now!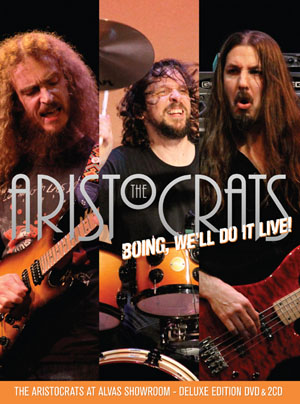 Maybe you already have it, maybe you don't – but it's a two-hour concert that we're making available for the special introductory price of only $11.99 during this "Littlecast Test Drive" period. Plus, the video has been improved upon its original version for an even sharper resolution than the original.
With your purchase of the digital Boing, We'll Do It Live! you'll have unlimited hi-res streaming capability on your laptop or desktop, and you can download it to your mobile device (iPhone, iPad, Android). It will contain the concert footage only, no bonus features. We're thinking that two hours of music should be enough. :-)
Note: Littlecast will say you're getting the "Ability to stream and download unlimited while video is available." In case you're wondering, our intention is to keep the video up forever, as long as there's an Aristocrats and a Littlecast.
So, how to get it? Like this:
1) Log in to Facebook. (This is a requirement – it won't work without it. Our apologies to the Zucker-haters out there.)
2) Click this link. It should take you to our Littlecast page with Boing, We'll Do It Live! right on it.
3) Click "Buy Now" in the lower right hand corner.
4) Follow the instructions for payment, via Facebook Payments or PayPal.
5) Get your confirmation e-mail, with links to all of the different options for viewing.
6) Click and enjoy!
That's it! We'd love to hear from a few good men or women about your experience in purchasing and viewing this product, so feel free to write us at aristocratsinfo[at]gmail[dot]com​ and let us know how it goes. Or you can comment on our Facebook page on one of the threads there on this topic.
Meanwhile, stay tuned for more exclusive preview videos from Culture Clash Live coming up in early January, and we wish you all a happy, healthy, and peaceful 2015.
Best wishes to all,
The Aristocrats
---
Hey everyone-
In case you missed it, our new pro-recorded live CD/DVD Culture Clash Live – as well as our limited-edition band-signed "official tour bootleg" 2CD Secret Show: Live In Osaka and a limited-edition Culture Clash Live t-shirt- is now available for presale! Release date is January 20, 2015. Click here to go straight to our webstore, or just scroll down to the previous post if you want more information on each release. We also released a preview video of that DVD.
Today we've got some more exciting news about Culture Clash Live. The two songs on the DVD from Tokyo were captured in a 20-camera shoot by video freak/editor Jason McNamara, and he took the time to make a special "behind the scenes" video of how he did. It's quite cheeky and fun, and you can see that special bonus preview video by visiting our friends at Music Radar, who are hosting it exclusively for us.
If that video convinced you to pull the trigger, then you know what to do: just click here to order now. :-)
We'll be sharing one more preview video next week before the whole thing drops on January 20, so stay tuned for that, and thanks to everyone who's already ordered for their support. We're grateful, and look forward to sharing the whole thing with you very soon.
Best wishes to all,
The Aristocrats
---