At long last, it's here: BOING, We'll Do It Live! The Aristocrats At Alva's Showroom is now out and available for order and ASAP shipment!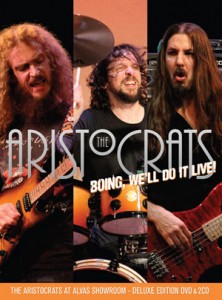 That means that, if you pre-ordered, you should have gotten your physical order or you will get your order any minute now, and your digital download links should be active. If you're one of those folks, THANK YOU from all of us!
If you're not the pre-ordering type but we were waiting for release day, well, here it is. :-)
Remember, there's the DVD+2CD Deluxe Edition (with bonus tracks and special features and a 5.1 mix by Steven Wilson), the regular 2CD version, and a download-only version. Sure, we're live on iTunes now, and we like iTunes, but digital downloads from us are available in super-high-quality Apple Lossless and FLAC formats, so…just sayin', you can get it from us as well by clicking the link above.
(UPDATE – the download issue has been fixed, thanks everyone for your patience! -BB  And a note to anyone who ordered and for whom the digital download link isn't working – we are ON THE CASE with Topspin and will get it sorted out ASAP. Many apologies for the inconvenience!)
Over 25,000 folks (wow!) have watched our live DVD preview video on YouTube. If you're not one of them, click here to check it out!
A final note: You have pretty much overwhelmed us with pre-orders, and we thank you for that! In fact we had to re-order more Deluxe Editions in a hurry. We have already sent more to our webstore's warehouse, and even more are on the way. We still have the DE's in stock right now as I type this, but if for some reason you get a "backorder" message, do NOT worry. More are literally on the way already from us to the warehouse, and actually, they're probably there just waiting to be received into stock…and then shipped to you ASAP. All the more reason to order now and not later. :-)
And if you already have it, let the folks know what you think by posting on our Facebook page or on our Twitter feed (@acratsband).
That's it! Thanks to everyone for helping to create a nice buzz online about this new DVD/CD, and Marco, Guthrie and I all hope you enjoy it as much as we did making it.
Happy holidays,
The Aristocrats