UPDATE: BANGALORE SHOW now BACK ON for September 19 at Indirinagar Club, with additional tickets on sale right here:
https://insider.in/event/the-artistocrats-india-tour-september14
All previous tickets from the September 14 date will be honored! Thank you for your patience.
Promoter's post about this – click right here.
*********
It's been a wild day for us in India, so we'll try and summarize it as best we can:
* We are very sorry to announce that the September 14 show in Bangalore has been cancelled due to a civil curfew imposed by the government. For full details on ticket refund issues (and a possible date change of the show!), please click here to see the promoter's message on their Facebook page.
* On September 14 – basically TODAY – instead we will do a second/extra show in Mumbai at Hard Rock Cafe Mumbai! This was just announced hours ago, and the show will feature a special set list with material more from the first two albums. Tickets are on sale now at this link.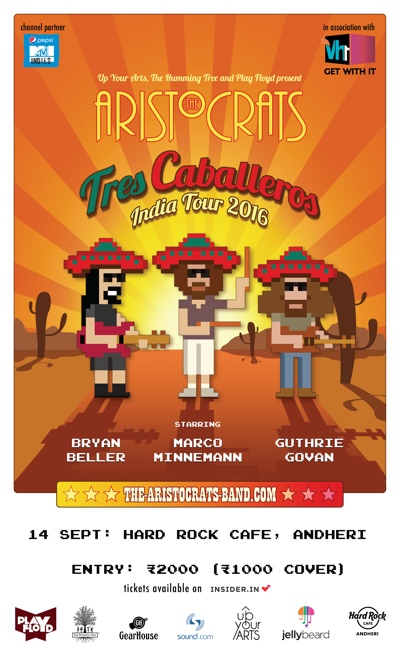 * We are working hard to try and do a Bangalore makeup show on September 19, in the same venue. Tickets from the September 14 show would obviously be honored. It's not confirmed yet, but watch this space for details, or our Facebook page, or our web calendar page.
Thanks to everyone at The Humming Tree and Up Your Arts for going above and beyond to help us roll with all of these changes, and we hope to have more info soon on the September 19 makeup show!
Cheers,
The Aristocrats