We know it's taken a long time to make this announcement, but we can finally say that The Aristocrats are coming to South America!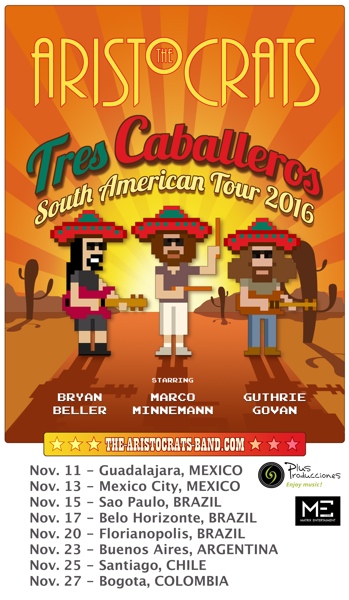 THE ARISTOCRATS
"TRES CABALLEROS" WORLD TOUR
SOUTH AMERICA LEG
11-Nov – Guadalajara, MEXICO – C3
13-Nov – Mexico City, MEXICO – TBA
15-Nov – Sao Paulo, BRAZIL – Carioca Club
17-Nov – Belo Horizonte, BRAZIL – Circus Rock Bar
20-Nov – Florianopolis, BRAZIL – Centro Integrado de Cultura
23-Nov – Buenos Aires, ARGENTINA – Niceto Club
25-Nov – Santiago, CHILE – Teatro La Cupula
27-Nov – Bogota, COLOMBIA – Auditorium Fernando Sor
Not all shows have tickets available for sale yet. These links will go live over the coming weeks. We recommend watching our Facebook page, Twitter feed, and website calendar page for the latest info.
To our fans in South America: Thank you for being so patient, and we are looking forward to finally playing for you!