And that, as they say, is that: The Tres Caballeros World Tour is now in the books. All we can say is THANK YOU to our fans around the world for making the impossible possible: An instrumental rock/fusion band doing an actual world tour. We're extremely grateful to everyone – fans, booking agents, promoters, venues, folks in the press, you name it – who played a part in making this all work.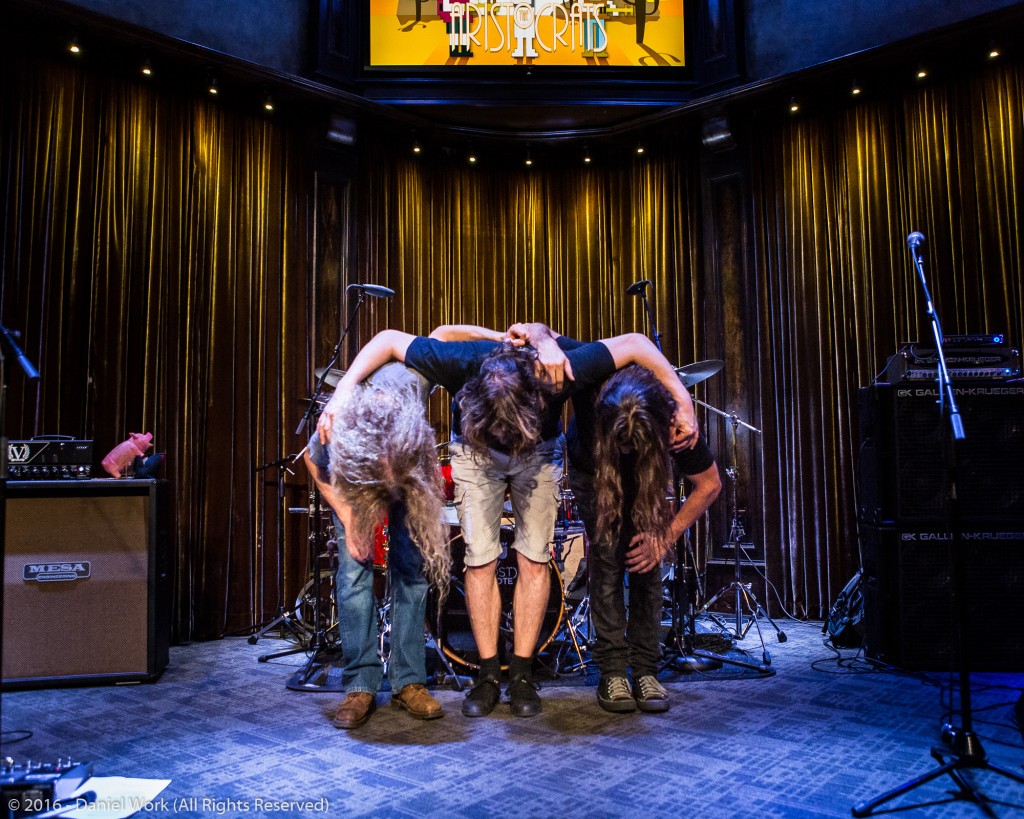 If you'd like to see some photos from the band at the airport just before the tour ended – and also some great shots from the tour-closing show at The Sanctuary Music & Events Center in McKinney, TX, USA – just go to our Facebook page by clicking right here. They're the two most recent posts.
Or if you're not a Facebook person, you can see the live shots by clicking right here (photos by Daniel Work for North Texas Live).
And, for the official record, here's the complete itinerary of the entire world tour, listed below. Which one did you see and what do you remember? Feel free to comment on the Facebook tour-closing thread by clicking here, or on Twitter if that's more your speed.
Once again, from us to you, thank you so very much, and happy holidays.
Cheers to all,
The Aristocrats
********
THE ARISTOCRATS
TRES CABALLEROS WORLD TOUR
2015-2016
2015
NORTH AMERICA
3-Jul Cambria, CA USA G4 Experience Camp
6-Jul Sacramento, CA USA Harlow's
7-Jul San Francisco, CA USA Slim's
8-Jul Santa Cruz, CA USA Don Quixote's
10-Jul Portland, OR USA Star Theater
11-Jul Seattle, WA USA Studio Seven
12-Jul Vancouver, BC CANADA Rickshaw Theater
14-Jul Boise, ID USA The Reef
15-Jul Salt Lake City, UT USA Club X
17-Jul Denver , CO USA Quixote's True Blue
19-Jul Omaha, NE USA Slowdown
20-Jul Des Moines, IA USA The Gaslamp
21-Jul St. Paul, MN USA Amsterdam Bar & Hall
23-Jul Milwaukee, WI USA The Miramar Theater
24-Jul Chicago, IL USA Reggie's
25-Jul Indianapolis, IN USA Birdy's
26-Jul Cincinnati, OH USA Mad Frog
27-Jul Cleveland, OH USA Beachland Ballroom
29-Jul Pittsburgh, PA USA Hard Rock Café
30-Jul Columbus, OH USA Skully's
31-Jul Detroit, MI USA Token Lounge
1-Aug Toronto, ON CANADA Mod Club
2-Aug Ottawa, ON CANADA Rainbow Bistro
4-Aug Montreal, QC CANADA Café Campus
5-Aug Woodstock, NY USA Bearsville Theater
7-Aug Boston, NY USA The Middle East
8-Aug New York City, NY USA Irving Plaza
9-Aug Philadelphia, PA USA North Star Bar
10-Aug Washington, DC USA Jammin Java
11-Aug Raleigh, NC USA The Pour House
13-Aug Charlotte, NC USA Tremont Music Hall
14-Aug Atlanta, GA USA Aisle 5
15-Aug Nashville, TN USA The High Watt
16-Aug St. Louis, MO USA Old Rock House
17-Aug Kansas City, MO USA Davey's Uptown Ramblers
18-Aug Tulsa, OK USA The Vanguard
20-Aug Houston, TX USA Fitzgerald's
21-Aug Austin, TX USA Threadgill's
22-Aug Dallas, TX USA The Sanctuary
24-Aug Albuquerque, NM USA Launchpad
26-Aug Phoenix, AZ USA Club Red
27-Aug Mexicali MEXICO Teatro De Estado
28-Aug San Diego, CA USA UCSD Price Center Ballroom
29-Aug Riverside, CA USA Romano's Concert Lounge
30-Aug Los Angeles, CA USA King King
EUROPE PART 1
16-Nov Cologne Germany Kantine
17-Nov Dortmund Germany Piano
18-Nov Frankfurt Germany Zoom
20-Nov Nurnberg Germany Luise – The Cultfactory
21-Nov Winterbach Germany Strandbar 51
22-Nov Reichenbach Germany Bergkeller
24-Nov Munich Germany Strom
25-Nov Bratislava Slovakia MMC
26-Nov Nove Mesto Slovakia Blue Note
27-Nov Bochnia Poland Kino Regis
28-Nov Grodzisk Mazowiecki Poland Centrum Kultury
30-Nov Berlin Germany Kesselhaus
01-Dec Osnabruck Germany Gaste-Garage
02-Dec Hamburg Germany Fabrik
04-Dec Larvik Norway Bolgen
06-Dec Istanbul Turkey Garajistanbul
07-Dec Bucharest Romania (late change, venue name unknown)
09-Dec Zoetermeer Holland De Boerderij
10-Dec Verviers Belgium Spirit of 66
12-Dec Dublin Ireland The Grand Social
13-Dec Edinburgh Scotland Liquid Room
15-Dec Manchester UK Club Academy
16-Dec Birmingham UK O2 Institute 3
17-Dec Bristol UK Bierkeller
18-Dec London UK Heaven
19-Dec Brighton UK The Haunt
20-Dec Paris France La Maroquinerie
2016
EUROPE PART TWO
13-Jan Espoo Finland Sellosali
15-Jan Aanekoski Finland Painotalo
16-Jan Espoo Finland Sellosali
18-Jan Lisbon Portugal RCA Club
20-Jan Sevilla Spain Sala Custom
21-Jan Murcia Spain Garaje
22-Jan Madrid Spain Sala Caracol
23-Jan Valencia Spain Rockcity
24-Jan Barcelona Spain Razzmatazz 2
26-Jan Nice France Forum Nice Nord
27-Jan Genova Italy La Claque
29-Jan Athens Greece Athina Live
30-Jan Athens Greece Athina Live
02-Sep Milano Italy Blue Note
03-Feb Zurich Switzerland Moods
04-Feb Rubigen Switzerland Muehle Hunziken
06-Feb Verona Italy Officina degli Angeli
07-Feb Bologna Italy Zona Roveri
08-Feb Pordenone Italy Il Deposito
10-Feb Firenze Italy Teatro Puccini
11-Feb Terni Italy Auditorium Gazzoli
12-Feb Malta Malta Ir-Razzett l'Ahmar
14-Feb Palermo Italy Zsa Zsa Mon Amour
15-Feb Cosenza Italy B-Side
16-Feb Roccaforzata Italy Saloon Public House
17-Feb Caserta Italy Softly Live
18-Feb Rome Italy Planet
20-Feb Tel Aviv Israel Reading 3
G3 EUROPE (with Steve Vai and Joe Satriani)
2-Jul Rome Italy Rock In Roma / Moon Stage @ Ippodromo delle Capannelle
3-Jul Sogliano al Rubicone Italy Piazza Matteotti
4-Jul Ascoli Piceno Italy Piazza del Popolo
5-Jul Grugliasco Italy GruVillage
11-Jul Munich Germany Circus Krone
12-Jul Offenbach Germany Stadthalle
13-Jul Bonn Germany Kuntsrasen
ASIA/AUSTRALIA
5-Sep Fukuoka Japan Gate's 7
6-Sep Osaka Japan BigCat
7-Sep Nagoya Japan The Bottom Line
8-Sep Tokyo Japan Club Citta
10-Sep Bangkok Thailand M-Theatre
12-Sep Kolkata India Rang Durbar, Swabhumi (The Festival)
14-Sep Mumbai India Hard Rock Café
16-Sep Mumbai India Sitara Studio
18-Sep Dehli India Hard Rock Café
19-Sep Bangalore India Indiranagar Club
21-Sep Kathmandu Nepal Tangalwood
25-Sep Taipei Taiwan Riverside Live House
27-Sep Shenzhen China A8 Live
29-Sep Hong Kong Hong Kong The Hangout
2-Oct Perth Australia John Inverarity Theatre
4-Oct Adelaide Australia The Gov
6-Oct Melbourne Australia The Bendigo Hotel
8-Oct Sydney Australia Manning Bar
10-Oct Brisbane Australia The Crow Bar
MEXICO/SOUTH AMERICA/TEXAS
11-Nov Guadalajara Mexico C3
13-Nov Mexico City Mexico Circo Volador
15-Nov Sao Paulo Brazil Carioca Club
17-Nov Belo Horizonte Brazil Circus Rock Bar
20-Nov Florianopolis Brazil Centro Integrado de Cultura
23-Nov Buenos Aires Argentina Niceto Club
25-Nov Santiago Chile Teatro La Cupula
27-Nov Bogota Colombia Auditorium Fernando Sor
29-Nov Dallas (McKinney), TX USA The Sanctuary Music And Events Center